We had a focus group discussion with single mothers at Tumuku village. The meeting started at 9 am with 10 members and later 9 other members join to share their personal stories and their challenges. All members introduced themselves and a registration was done.  ibiimu project was introduced to them as the flagship project of RUDEC Cameroon that aims to curb the increasing number of teenage pregnancies in the area of Boyo Division and beyond.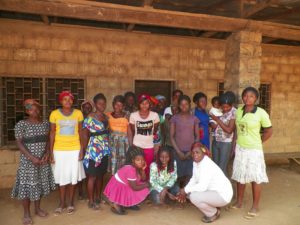 The personal stories were so touching that we discover that many of them are only supported by their mothers and some are orphans who join friends and was introduced to activities like dance occasions that were caught in the drunken trap. Some were fooled by men that they will be helpful in school and only later to impregnated them and ran away. All struggle to support themselves and their children when they are sick.
They choose projects to carry out like tailoring, Hairdressing, marking dresses, Knitting and 3 choose to be farmers in fishing.