During my three months with RUDEC, Joshua and I worked on a micro-loan project for women who were members of a local community group in Belo. Joshua, the women of the group and I sat together in meetings to discuss loan ideas in order to decide on the best terms for all parties involved. The outcome of these discussions was a loan project that has proved to be quite successful. To date, 12 women have received a loan and none of them have defaulted on their repayments. Joshua and I hope that we could expand this program to other women's groups in the area because of how successful it has been. The other volunteers and I also worked Monday through Friday at the after school program during the school year and the summer school program when school was not in session. These programs that RUDEC offers are so essential to the school children's education because it is the only time students will get individualized attention in a small classroom setting. Children attend schools that often have more than 100 students per classroom so it is very easy for them to fall behind.
I noticed that these students are eager to learn and are happy to attend the program. It is essential that we have more volunteers coming to RUDEC so that it can continue to provide these children with this educational service. What is great about this program is that almost anyone can be a tutor. We taught them all of the same things we learned when we were their age in school – addition, subtraction, multiplication, division, English. You do not have to be a teacher to help students with their lessons. It was also fun to watch them learn about acting in the drama class – that was something totally new to them and they enjoyed it! The weekends always brought a new adventure for the volunteers as there are many things to see and do in and around Belo. Belo is a beautiful, picturesque village situated amongst mountains.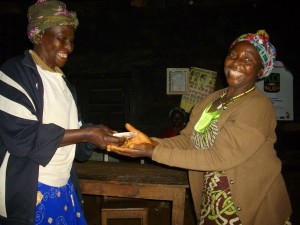 Looking outside was an experience in and of itself. In town there is also a waterfall that one could walk to on the way to Joshua's house that was also a beautiful and fun excursion. My favorite experience was the Mbingo Cliff walk, which Joshua accompanied us for. We walked along the mountains and eventually came to a breathtaking waterfall, which we were able to get very close to. Lake Oku was also a magnificent experience and I happened to spend my 21st birthday there with my fellow volunteers atop the second highest mountain in Africa overlooking a sacred mountain lake surrounded by forest. The Northern Highland Tea Estate was also a cool experience. We toured the tea factory with a guide who walked us through the process of how the tea is made on this estate, which is the largest tea estate in the world owned by one person. We toured the tea fields and saw tea at every stage in the growing process. Then we saw the horses and ostriches that live on the estate and played with the monkeys who were quite friendly. They also gave us a bunch of tea to take home, which I still drink with the white honey I brought back! It is also very likely that one will experience cultural activities and celebrations. I recommend to everyone who travels to Belo to do their best to see the JuJus, who are masked tribal dancers who perform at death celebrations.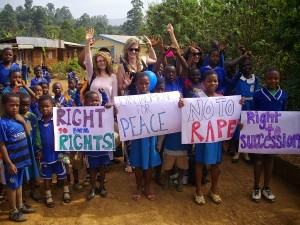 The people who live in Belo are very welcoming and understanding. They know the volunteers come from cultures very different from their own and are more than ccommodating of the foreign volunteers. I do recommend to take every opportunity to learn about what life is like in Belo and cherish your time there. You will develop friendships in the community, and this is perhaps the best part of living there. Joshua is a great person to work with because he so passionate about helping his community and is truly invested in his work. His enthusiasm for what he does is evident and inspiring and it passes from him to the volunteers he works with. He also maintains a connection with his volunteers throughout their stay, ensuring that they are feeling welcome in the community. One of the best things that Joshua does is that he listens to the ideas of the volunteers and works with them to develop their ideas into actions. Working with RUDEC was the best experience I have had, and I wholeheartedly recommend others to volunteer with RUDEC in Belo.